Visiting Artist
Registration Deadline Feb 24, 2023
To register your school for a visiting artist call 260-247-7325  or email  info@famearts.org 
In-school dates
March 6-10, 2023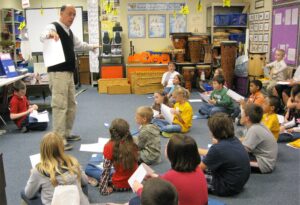 \
The FAME Visiting Artist Program invites renowned professional artists to be a part of our annual FAME Festival and to visit area schools bringing their talents into the class room.  Each artist is selected from a variety of artistic disciplines creating work that relates to the annual cultural focus of FAME.  For 2022-2023 FAME's theme is "Fables and Folklore in Eastern Europe and Balkans". This year's Visiting Artists are:
Jay Sand
Mark Crilley
Janice Furtner
Youi will find more information about the artists at the Resources Page in the Teacher Information Packet.
Following are brief resume of the Visiting Artists-
Jay Sand – Musician, Writer and World Traveler

Jay Sand, guitarist and children's music teacher, world traveler and dad of three girls developed All Around This World with his girls as a way to introduce them to the countries he's already visited and the many more he plans to visit with them. Jay held his first All Around This World classes in 2009 in his Philadelphia living room and has since expanded the All Around This Wold curriculum to include over 300 songs and cultural experiences that originate in more than 100 countries. Jay has taken All Around this World to kids on several continents, performing dynamic conerts and teaching engaging, interactive classes, both in-person and online. He is honored to join FAME in Fort Wayne for this Year's festival.
Website: https://www.allaroundthisworld.com
Mark Crilley – Artist and Storyteller
Mark Crilley is the author and illustrator of more than forty books, including several acclaimed graphic novels, for which he has received fourteen Eisner Award nominations. His work has been featured in USA Today, Entertainment Weekly, and on CNN Headline News. His popular YouTube videos have been viewed more than 400 million times. He lives in Michigan with his wife, Miki, and children, Matthew and Mio.
Website: http://www.markcrilley.com/
Janice Furtner – Papercutting Artist
Janice Furtner is a freelance papercutting artitst, teacher, singer and audio producer. For over fifty years she has combined a love of nature, music and poetry within her papercutting artistry. The culture of Japan, as well as the Jugendstil and the Arts and Crafts movement are influences that are reflected in her papercuts.
Janice's technique for cutting paper is self-taught. She cuts freehand, using a combination of blades and scissors. For her multi-layered cuttings, she hand-colors both machine and handmade papers, and includes music, maps and other ephemera.
Her work has been exhibited in a number of Northeast Indiana venues including: First Presbyterian Church Gallery, Jeffery R Gallery of the ACPL, Garrett Museum of Art, Gart Public Library, Fort Wayne Museum of Art, and Langhinriches Gallery. She exhibits and teaches papercutting annually at the Cherry Blossom Festival. Her papercuts are represented in collections around the world. Janice is also known in Northeast Indiana, as well as nationally, for her thirty-two year career in public radio.
Through FAME, Janice explores the multicultural traditions of papercutting in classrooms and art camps. Indonesian Shadow Puppets, Japanese Kiri-e, German Scherenschnitte, and Polish Wycinanki are some of the classes she teaches as a visiting artist.